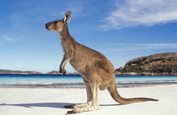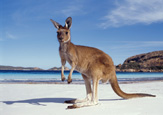 ◈ ◈ ◈ ◈ ◈ ◈ ◈ ◈ ◈ ◈ ◈ ◈ ◈ ◈ ◈ ◈ ◈ ◈ ◈ ◈ ◈ ◈ ◈ ◈ ◈ ◈ ◈ ◈ ◈ ◈

WINNER: TRAVEL GUIDE BOOK OF THE YEAR
"Upbeat, inspiring... packed with thoughtfully researched recommendations"
British Travel Press Awards

◈ ◈ ◈ ◈ ◈ ◈ ◈ ◈ ◈ ◈ ◈ ◈ ◈ ◈ ◈ ◈ ◈ ◈ ◈ ◈ ◈ ◈ ◈ ◈ ◈ ◈ ◈ ◈ ◈ ◈

Your East Coast adventure starts here!

Discover a region of roaring surf, towering rainforests, shimmering reefs and gorgeous beaches with The Rough Guide to East Coast Australia, the comprehensive new guidebook for independent travellers, researched and written by Emma Gregg (et al).

Be inspired by the wine regions and national parks, lively Sydney, laidback Byron Bay, the dazzling Whitsundays, the Great Barrier Reef and all the fascinating, less-travelled places in between.

Make the most of your time Down Under with The Rough Guide to East Coast Australia.

First edition, paperback, 680 pages
ISBN 978-1-85828-885-7 (RRP UK £14.99, AUS $35.00, US $22.99, CAN $25.00)
Click here to find The Rough Guide to East Coast Australia on Amazon



Most read on www.eastcoastaustralia.co.uk

• Planning your own adventure in Queensland, New South Wales or Victoria?
• Opera House views for a song: the new Sydney Harbour YHA
• IN THE NEWS The Rough Guide to East Coast Australia scoops an award


Please respect the copyright of the text and photos on this website.
© Emma Gregg and Tourism Australia. All rights reserved.